*         *        **                  Swamp Gallery *   *            * *       *   *      
*                                      *         *                     *                      *                                     *    *  
 *                                       *  *        *                *         *                     *      
*                        *          Internet Home of  Mr. Froggy
                               

T

our 

Financial Consultant

-CPA/MBT

  
*              *      *                         *                *              *                                  *
*

     

 

*

                                
*
**             

 

*     

 

*

                      

   

*

                

*              

*

                                 

 

*
*

     

 

*

                                                                  
*
*
________________________________________________           *              *                                  *
*                         *              *      *                         *                *   
           *                                  *
      *         *                       *      *   *              *      *                         *                *              *                                                       *                       
Jimmy Haslip is a client
    

*

   

*  

 

*

*

 

*     

*            

  

*

     
*
*
*
*
  *      *                         *                *  *      *                         *                **                                       *
*                                              
*                                           

  
* 
 

*     

*             

  

* 

 
     

O

O

O

O

O

O

O

O

O

O

O

O

O

O

O

O

O

O

O

O

O

O
                   *                    *  *                   *                *                                        *
*                                      *         *                     *                      *                   *                    *    *
________________________
     Advising Charlie Drayton   
        _____________________              *
*                                                                  *         *
 *                    *  *                                                            *                *                                        *         *                    *  *                   *                *                                        *                    *  *                   * *         *                    *  *                   *                *                                        * *         *                    *  *                   *                *                                        * *         *                    *  *                   *                *                                        *                *                               
  ((((((  Listen  ))))))                "Mere LaRue" from Forlana
*                                            *                                                               *
⇑                *         *
 *                    *  *                   *                *                                        *
*                    *         *
*                      *            *                       *    *   *                     *      
         
                  *                    *                     *                *                                        *
*                                      *         *                     *                      *                   *                    *    *

                   *                    *  *                   *                *                                        *
*                                      *         *                     *                      *                   
   *        *                      *            
Hattie puts the hoo-doo on Mr. Froggy     *      *     *        *                      *            *
     *                      *            *                     *          *                  *  *    *         *                     *                      *                  
      *                          *                        *                     *          *                  *  *    *                       *
                       *                      *                                     *                      *                           *                      *            *                                       *         *                     *                      *                                                   *         *                     *                      *                              *          * *          
         *         *        **   *         *                     *                      *                   *                    *    *
    OOOOOOOOOOOOOOOOOO
*        *                      *            *                     *          *                  *  *    *                   *                  *        *                     *       *          *                  *  *    **          *                  *  *    *       *       *          *                      *            *      *                  
*       *          *                  *  *                  *       *          *                  *                             * *       *          *               *  * *           *          *                  *  *    *
      Me & Beau Shit                    *         *  *     *     *    *   *    *      *    *  *                   *      *         *  *     *     *    *   *    *      *    *  *                   *        *                                        **                                      *         *                     *                      
*                   *                    *    *
          *            *       *                   *                                                 *            *  *  
   *  *     *     *    *   *    *      *
*  *    *                                                 *                        *          *                      *            *      *
******Literary  NEws Flash*****
              "On Tour With Leonard Cohen"  by Sharon Robinson. Powerhouse Books
      "New book of photographs captures a behind-the scenes Leonard Cohen previously unknown…..primadonna back-up musicians (Neil Larsen below, right) sitting around drinking something called Red Needles while the world tumbles down around them makes for a cozy read.  Facinating.  5 STARS *****  Swampgazette.com.
-"How enchanting. Mr. Froggy is just adorable" –Mother Teresa   ***********************
"Sharons' photography has never been better"   Sir Cecil Beaton ********************* 
"I couldn't care less" – Justin Bieber
      The big news is that I, Mr. Froggy, am featured in the book, "On Tour with Leonard Cohen", by Sharon Robinson (a client of mine).  I'm on page 95 but it's not my best angle. The book got great reviews in Vogue & the L.A. Times and it's seems very popular around here in the Swamp.  Good luck Sharon in putting forth before the public such a handsome brochure.  Bravo
 ___________________________________________________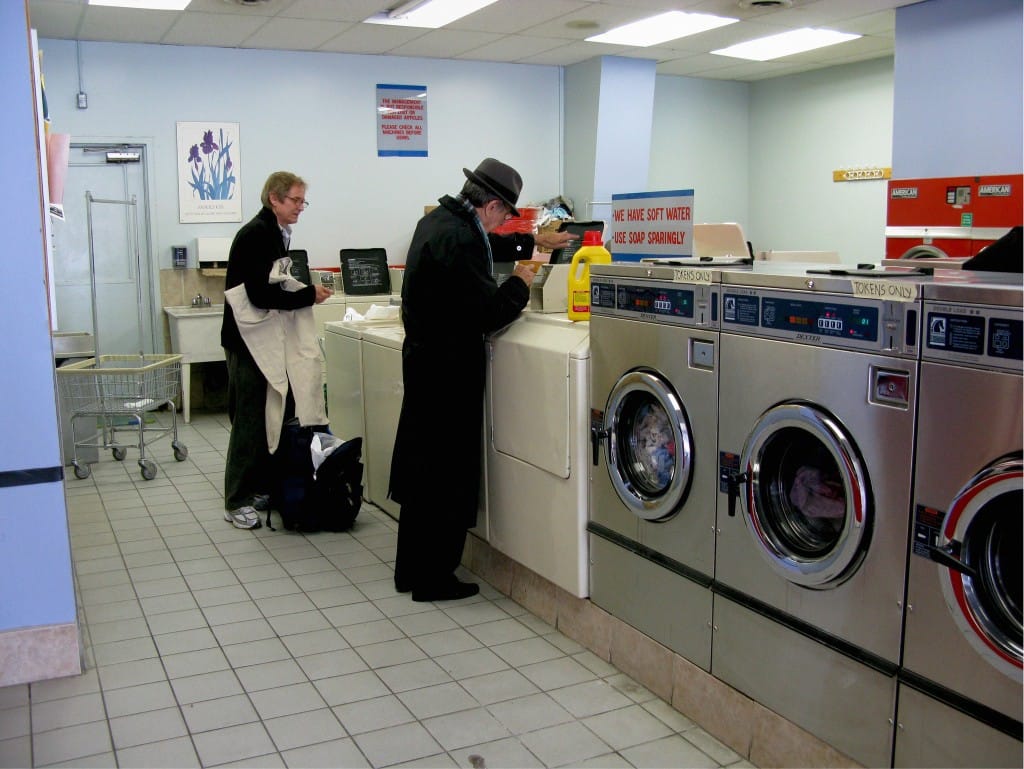 Neil Larsen (a client of mine) & Leonard Cohen at a laundromat in Canada, a photo featured in the new book "On Tour With Leonard Cohen".
O

O

O

O

O

O

O

O

O

O

O

O

O

O

O

O

O

O

O

O

O

O
                   *                    *  *                   *                *                                        *
*                                      *         *                     *                      *                   *                    *    *
        * *         *  *               *                                                                                              *         *  *
          *                      *       *                                   *         * *         *                     *                      *  
____________________          
 Sarge, head of Swamp Security
                  *                    *  *                   *                *                                        *
*                                      *         *                     *                      *                   *                    *    *             __________________________
           *                **
*                                      *         *                     *                      *                     
*                                                              *         *                     *                      *  *                                      *         *                     *                      *  
   *                      *                  *                    *  *       On the tour bus with Michele Branch
*                      *  *                                      *         *   
___________________________________
*  
    *                                      *         *             *                      *                   **                    *                     *                      *                                   *    *   *                                   *  *                    *                        *                      *                                   *    *   *
  *         *                     *                      *                   *                    *   
    When I talk, people seem to listen                      *                   *                    *    *
        *  *                   * 
*                    *                     *                      *                                   *    *   *                                   *  
  *         *                     *                      *                   *                    *    *                _____________________________________________                         
  *         *                     *         *               Mike Landau makes calls for me                        *    *    *         *                     *                      *                   *                    *    *    *         *                             *                    *    *                   *                    *    *    *         *                     *                      *                   *                    *    *                 *                      *    *                      *                   *                    *    *    *         *               *                   *         *                                   *                  *  * *       *          *       *  * *                       *            * *                  *  * *       *          _________________________________________________                 *       *  * *                       *            * *                  *  * *                  *          *       *          
*     *      *  *       *      *                  *   *       *
        *  *                 *          *                  *  * *       *
   Double-checking the fine print between the lines with Mr. Robert Kory, manager for   Mr. Cohen   *
*                        *               *
____________________________________________________________________
*                *                    *    *                 *                        *                   *
*       *                          *            *    *    *   *    *                   *   *                             *
 **                                                *      *                         *                *             
____________________________________________________________________________________
_____________________________________________________________
  ~Florida~   
*

                     
*
*                      
*                   
*
*
*
*

  –

S

w

a

m

p

H

i

t P

a

r

a

d

e

–
Clarence 'Frogman' Henry is from New Orleans & this was a huge record in my swamp.  Hey now
       *                            "Ain't Got No Home"                 
             

  

*

       
*   
*
*
_____________________________________________
____________________________________________
 *                          *                                   *          
*                      *         *      *    *    *       *                                                        *                                 Mashu ↵      *                 *        *                   **                      *         *      *    *    *       *                       **                      *         *      *    *    *       *                   *    *    *        *    *                    *            *       *                          *            *    *    *   *    *                   *   *          **    *